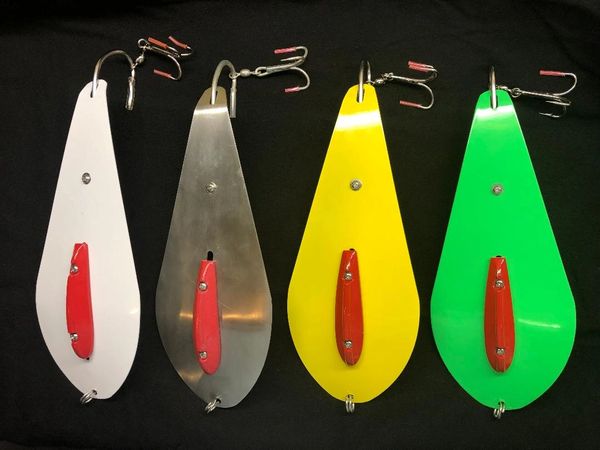 TJ Bunker Spoons - Large
TJ BUNKER SPOONS are the perfect size and weight for trolling when bunker are present for striped bass and other game fish such as tuna. TJ Bunker Spoons feature an adjustable keel weight, that allows the fisherman to create unique actions at certain speeds. These TJ Bunker Spoons offer results at an affordable price for the striped bass fisherman!
•10.8 ounces in weight
•10 1/4 inches in length ( not including fixed hook )
•4 1/4 inches wide
•Double Stinger Hook Design
•Popular Colors To Choose From
•Adjustable Keel Weight
•Lock Nuts on every bolt
These bunker spoons are designed to offer performance at affordable pricing. A fixed heavy duty hook is joined by a trebel hook for added assurance! Sold in 4 fish catching colors.   Compare TJ Bunker Spoons to other brands that cost much more! Adjustable Keel Weights: Can adjust the keel position, to improve action! CUSTOM BLENDED COLORS: Painted & Finished in The USA!

AVAILABLE IN 4 COLORS.
Reviews